The state of Virginia has a long rich history that dates back to the time when the first American President, in addition to three more, was born in this place. If you are looking to explore this historical place, don't forget to opt for coach rental in VA for a comfortable ride to these vintage attractions.
Mount Vernon
This 21-room plantation house was once home to the first president of United States, George Washington, from 1754 till the time he died 45 years later. The renovation of interior décor and architectural construction received his personal attention, and the vivid wall colors reflect the popular shades of the 18th century. Overlooking the panoramic views of the Potomac Rover are the beautiful gardens and grounds which was delicately planned by the man himself. The pathways and lawns make for a strip of native plant species and lush-green trees. The mansion is basically built of a wooden material in a loose Palladian Style, and covers an area of more than 500 acres.
Virginia Beach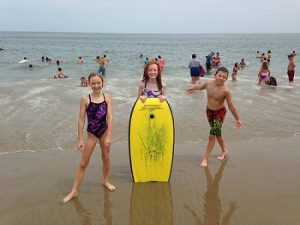 Known for the pristine golden sands that stretch from the east of Norfolk, Virginia Beach is a buzzing coastal city with miles of beach surfing, boardwalk and a wide range of fun activities on offer. Some of the key highlights include:
• Ocean Breeze Water Park: This 19-acre park has some great fun options for children, which includes water playground, a wave pool and Caribbean theme water slides.
• Old Cape Henry Lighthouse that was built in 1791
• Virginia Aquarium and Marine Science Museum: An 800,000-gallon aquarium to explore the aquatic life at its best. There's also an adventure park, along with nature trails and marshlands to discover.
• Atlantic Wildfowl Heritage Museum: Expose yourself to witness the contemporary and historical waterfowl decoys on display.
• Back Bay National Wildlife Refuge: Over 9000 acres of protected area with picnic facilities and walking trails. A huge variety of birds including falcons, geese, ducks, piping plovers and over 10,000 birds visit this spot annually.
• Chesapeake Bay Bridge – Tunnel: Located between Norfolk and Virginia Beach, this engineering spectacle is an entrance to the Chesapeake Bay, and it's worth an admiration for its structural beauty.
Shenandoah National Park and Skyline Drive
Right at the center of Virginia is the Shenandoah National Park covering portions of the Blue Ridge Mountains, and along its peak is the Skyline Drive that runs across the length of the park. This drive is a northern extension of the Blue Ridge Pathway, which has a number of stops where you can take a halt, and enjoy splendid views and witness places of historical significance.
Dark Hollow Falls, Cave Cemetery and President Hoover's residence are some of the spots you'll encounter on the way. It's a must visit during the autumn months, especially October, although the shrubs look evergreen throughout the season. Nearby are the ancient Luray Caverns with wonderful formations of stalagmites and stalactites. One of the key features of this cave is the only stalactite organ of the world, where vibration of stalactites takes place when hit with rubber hammers.
Busch Gardens
Located in James City County about 60 miles northwest of Virginia Beach is the 383-acre Busch Gardens Williamsburg theme park developed by Anheuser Busch. Apart from its European theme and beautiful landscapes, the garden is also popularly known for its roller coaster rides including Apollo's Chariot, Griffon and Alpengeist.
The park is organized into different precincts which represent a country in its unique style of music and food. The rides in these zones have also been designed in accordance with the country. It also has 10 separate hamlets including villages from European countries, Italy, England, Germany, France, Ireland and Scotland. There are two transportation rides including replica steam rains and skyride gondola lift.